Top 5 Countries For Indian Students To Study MBBS Abroad in 2021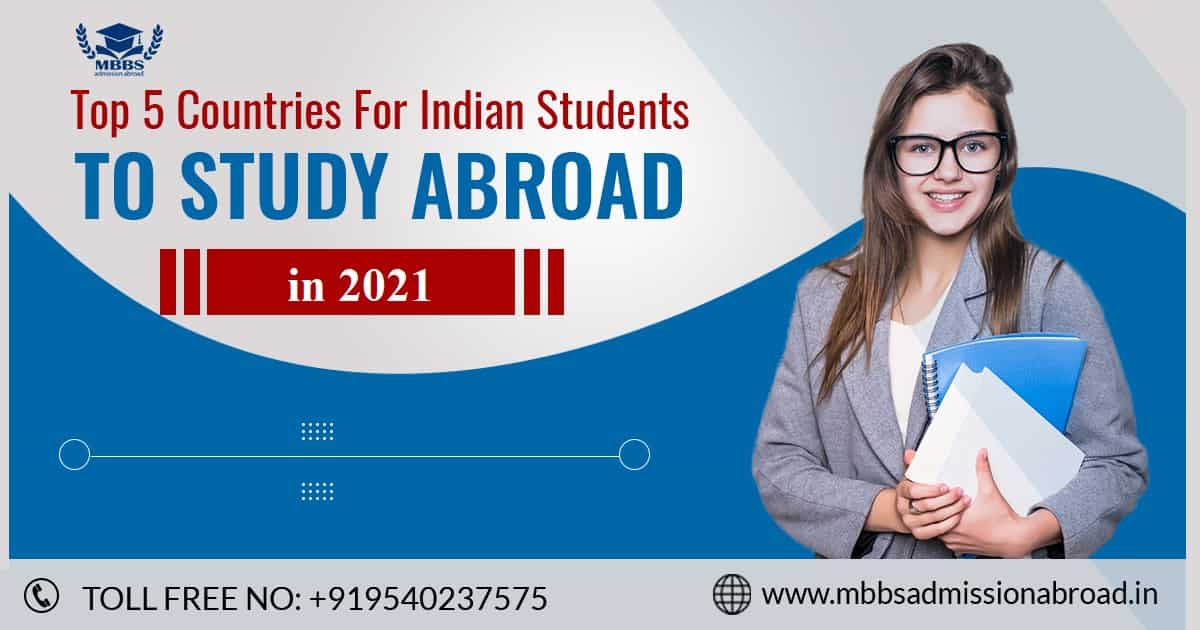 Medical is one the top popular courses in India and every thousand of students appear for the NEET exam to become a doctor but only a few of them chase their dreams but from last few years trend has been changed Indian students prefer studying medical studies Abroad. The main reason behind it is the fee structure as to study MBBS in India is quite expensive as compared to any other countries in the world. While appearing in the NEET exam students try to get good marks so they can get admission in government colleges in India but limited students get the desired seat. So, many of the students prefer to study MBBS Abroad.
Studying medical studies Abroad for Indian students is an opportunity as they have MCI recognised medical colleges abroad which helps the students to get jobs easily in India. It has advanced infrastructure which is equipped with the latest technology and advanced techniques for the students. It gives international exposure to the students and is a part of many international conferences and seminars.
Top 5 Low Budget University Of MBBS In Abroad
Georgia
Georgia is one of the wonderful countries and known to be one of the safest countries in the world. MBBS in Georgia offers the course in Georgian and English language program for 6 years which include theoretical and practical knowledge. It focuses more on practical knowledge and provides one year of internship to the students. The top medical colleges in Georgia are:
New Vision Medical University
Tbilisi State Medical University
East European University
Russia
Russia is a dream destination for all medical students as it has top world-class colleges which offer the best quality of education to the students. Russia is the country that has occupied 30 positions in the top 100 medical universities Abroad. MBBS in Russia has world-class universities which offer quality education at affordable prices. The list of top medical colleges in Russia are:
Chuvash State Medical University
Crimea Federal University
Peoples Friendship University
Altai State Medical University
Bashkir State Medical University
Ukraine
Ukraine is one of the best choices for medical aspirants as it offers a low-cost medical program that offers the quality of education to the students. MBBS in Ukraine offers the course in the English language and has top-ranked universities which have a beautiful campus that is equipped with advanced technology. The top medical universities of medical college in Ukraine are:
Kharkiv National Medical University
Lviv National Medical University
Ternopil Medical University
Kyiv Medical University
Vinnitsia Medical University
Philippines
Philippines is one of the prior locations to study MBBS as they offer the MD course which is equivalent to the MBBS course in India. MBBS in Philippines is globally recognised and it offers medical theory, clinical rotations, and practicals in the hospitals. The top college of MBBS in Philippines are:
Emilio Aguinaldo College
Ama School of Medicine
University of Perpetual Help System Dalta
Kyrgyzstan
Kyrgyzstan is one of the emerging locations which is chosen by medical students. MBBS in Kyrgyzstan offers a low-cost fee structure with a nominal cost of living to the international students with all the amenities. Here is the list of top colleges of MBBS in Kyrgyzstan are:
Osh State University
International School of Medicine
Kyrgyz State Medical University
Jalal Abad State Medical University