MBBS study pattern of Bau International University Batumi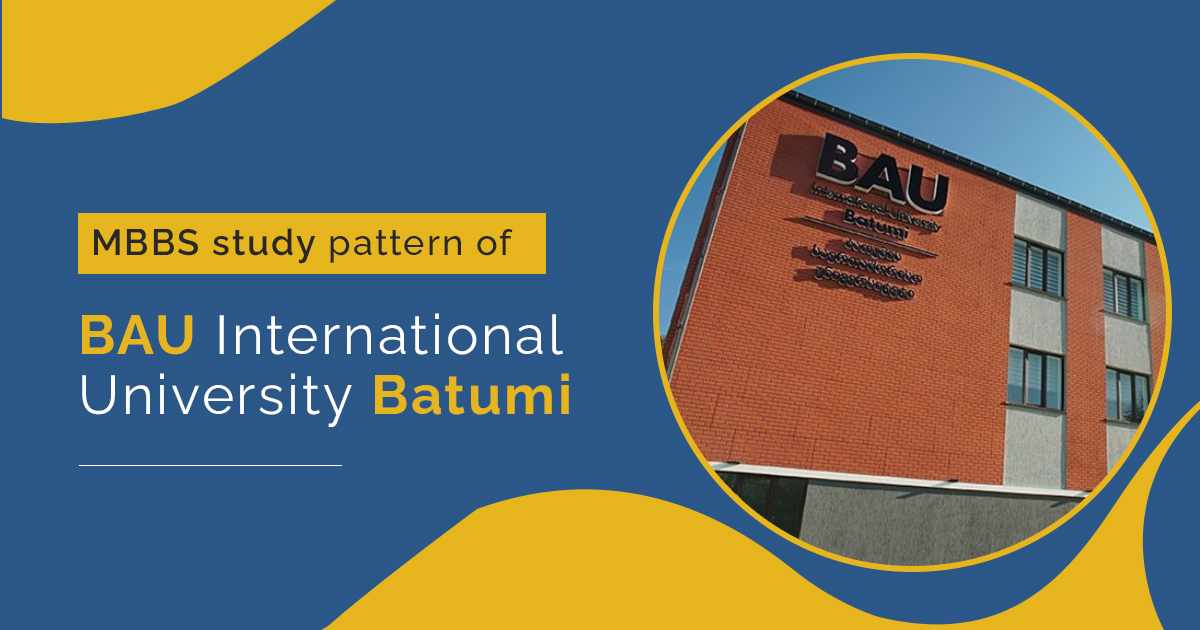 Georgia is a country located at the crossing of Eastern Europe and Western Asia. Georgia's capital and largest city is Tbilisi. In the world, it is one of the 6th safest countries in the world. Georgia is listed among the top most corruption-free countries in the world. The climate of Georgia is mild and rainy, so Indian students can easily adapt to this climate. There are so many universities in Georgia that provide quality education in MBBS courses, Bau International University Batumi is one of them.
Georgian Medical Universities offer quality education under a student budget. Every year around 22.6% of Indian students are admitted to Georgian universities to study MBBS. Bau Batumi Medical University of Georgia provides the world's best education with a high-standard infrastructure.
The admission process is quite easy for the candidates. Students just need to satisfy the admission criteria to get admission to Georgian Universities. The university is recognized or approved by world-leading organizations such as WHO (World Health Organization), NMC (National Medical Commission), and FAIMER (Foundation for Advancement of Medical Education & Research) to provide quality medical education.
Bau International University Batumi Facts and Figures
Batumi International University was founded in 2015 and is located in Batumi City Georgia. Bau International University is a newly established teaching university in the nation. Where the three-fold mission of education and research is successfully carried out by highly trained academic personnel, the latest technologies, laboratories, and classrooms.
Why Bau International University Batumi Student's Choice
There are several advantages to studying MBBS abroad at Bau International University Batumi, after reviewing these details students have clear thoughts about why students selected BAU International as the best destination. The advantages are listed below.
BAU University can provide an opportunity for students to do experiments in practical training. It helps to improve student's doctoral skills.
The university is fully equipped with modern technologies and standard infrastructure.
MBBS admission at Bau University is really affordable option for Indian students besides international students as there are many universities that offer low-cost MBBS programs.
Georgia is absolutely safe country. Students can easily travel by public transport from one place to another without any trouble.
Candidates get many opportunities in the country itself.
The university offers an exchange program for international students from different countries.
Bau Batumi International Universityprovides superior hostel facilities within the campus to the students and also provides Indian food for the students.
Various cultural and extracurricular activities are provided to the candidates in the University.
No donation charge for admission to the University.
Quick Highlights
| | |
| --- | --- |
| Program | MBBS Course |
| Exam Required | NEET Exam |
| Annual Tuition Fees (Approx) | 4800 USD |
| Course Duration | 6 years |
| Medium of Education | English |
| Accreditation | WHO and NMC recognized |
Student's Life at the Bau Batumi International University
The university has library, museums, auditoriums, lecture halls, etc.
The university offers state-of-the-art labs and classrooms for improved medical training for students.
The security of candidates is a priority on the campus as CCTV cameras, guards, etc. available 24 hours.
Students attend practical lessons in hospitals and clinics.
Universities in Georgia like Bau Batumi provide a friendly environment to international students so that they feel as if they learning the course within their country.
Hostel Facilities in Georgian Universities
The hostel's campus has all the basic amenities like a bed, air conditioner room, desk, reading room, Indian food, fan, and other electrical appliances.
Providing separate hostel for both boys and girls.
Delicious Indian food is available in the university's hostel canteen.
24*7 Wi-Fi facilities are also provided to the students in the hostel.
Eligibility Criteriafor Admission to the University
Admission requirements must be met for easy and direct enrollment in Georgia's favorite medical schools.If a student does not meet the eligibility criteria for MBBS at Bau Batumi International University, he/she will be rejected. Important information remarkable below:
Eligibility Criteria of the Bau Batumi International University

Exam

For admission to the University, the NEET UG Examination need to be clear by the Candidates.






Academics




In the 10+2 examination, 50% marks for General Category aspirants or candidates are needed.
In the 10+2 examination, 40% marks for reserved category aspirants or candidates are needed.
For candidates, Physics, Chemistry, and Biology as their compulsory subjects.

Age

The minimum age should be 17 years, and those who complete 17 years by 31st December of the admission year are also eligible.
This is the perfect admission criteria for those students who want to study MBBS at Bau International University Batumi. These criteria are beneficial for students.
Documents Required for Admission to the University
10th and 12th Marksheet is required
The NEET scorecard
The original passport of the candidate
Passport-size photographs
A health and fitness certificate
COVID-19 report (Negative) is mandatory
HIV Report
Medium of Instruction
All the Georgian universities provide the whole medical course in the English language. This absolutely helps students to learn medicine at Georgian universities.
Multicultural Environment
The university has a multicultural environment where students can meet friends and future colleagues from different parts of the world with different cultures, traditions, and backgrounds.
Indian food at BAU International University
Those students are worried about the meals so, don't worry about food. There is a university hostel that provides Indian mess facilities which are favorable for Indian students.
Bau International University Art and Culture
BAU has a vibrant arts community. The university encourages students to express their creativity and think critically about the arts both inside and outside the classroom. The university offers a wide range of activities and programs for both the campus and the community, including state-of-the-art performing arts facilities and unique art workshops.
BAU also offers a wide range of cultural programs, including internationally acclaimed artists, writers, award-winning musicians, renowned lecturers, and renowned speakers. Bau's location in Georgia enables partnerships with some of the city's best arts organizations and artists, as well as unprecedented resources and partnerships with international arts and cultural institutions.
Visa Formalities ofBau Batumi International University Batumi
Circumstances can vary greatly from country to country and even from individual to individual, so it is always best to contact the responsible authority directly for the most accurate and up-to-date information. BAU Batumi International University sends a visa invitation letter once the application is complete and the student has secured their place with the first payment.
FAQ'S
Que 1: What is the Fee Structure of Bau Batumi International University?
Ans 1: Tuition fees of the University are 4800 USD.
Que 2: Can a candidate practice or look for a job in Georgia after doing MBBS in Georgia?
Ans 2: Yes, in fact, some of the best MNCs are located in Georgia and offer both internships and jobs to MBBS graduates.
Que 3: Is a Bau International University MBBS degree valid in India?
Ans 3: Yes, the degree is valid in India if you have an undergraduate degree from a university accredited by the National Medical Commission.
Que 4: At whatage do you have to enter a medical university in Georgia?
Ans 4: Applicants must be 17 years of age and students who turn 17 by December 31 of the year of entry are also eligible.
Que 5: Write Bau International University Batumi Ranking in the World and in Georgia?
Ans 5: The University's world ranking is 10964th and in the country it is 31st.
Que 6: Which exam is needed to qualify for admission to Bau International University Batumi?
Ans 6: The NEET exam needs to qualify which is compulsory for entrance to Bau International University Batumi.