MBBS in Georgia: An Outstanding Choice for Medical Students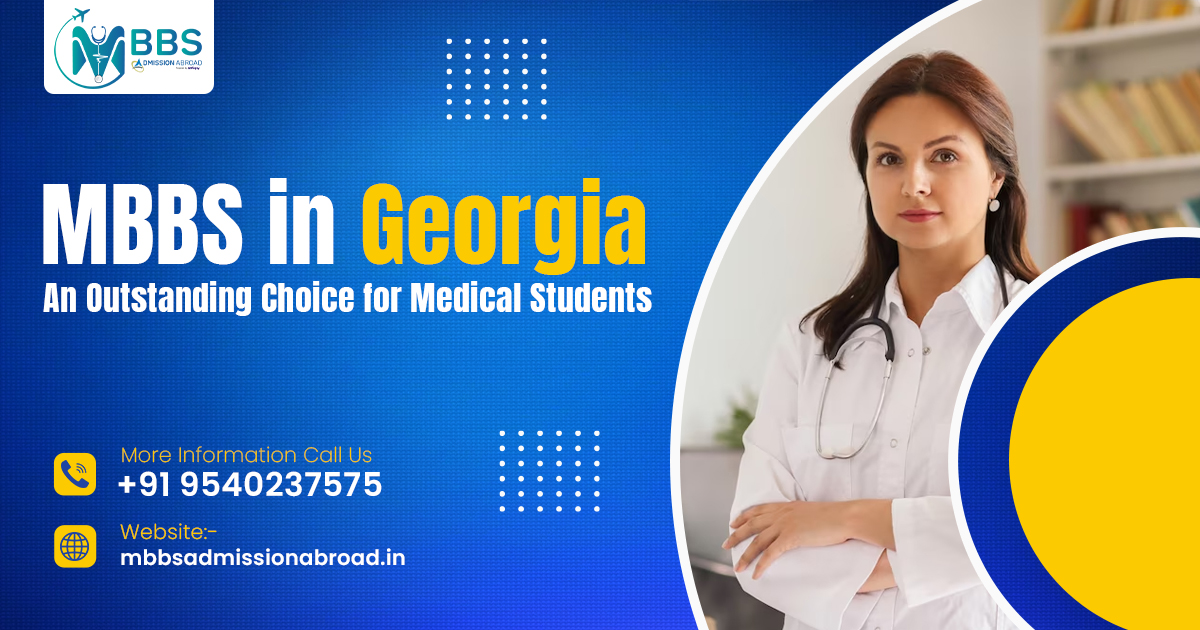 Georgia is an outstanding choice for medical students whether they are Indian or International students, they aspire to have their footsteps in one of Georgia's top medical colleges. 
Students are drawn to some of the appealing perks of MBBS in Georgia for a variety of salient reasons:
Acceptance: The country Georgia has been allocating the seats in their deemed universities to diligent and hardworking students in easier terms and most of the universities even have the availability of a great no. of seats. 
Technology & Simulation: The country has some premium institutions where teaching and educational approach is at a greater pace, students get a realistic learning environment and the infrastructure is designed to adapt a newer technological development constantly. To attain a degree from Georgia is equivalent to practical-based learning instead of a rote learning method.
Superlative Learning Environment: There is an immense no. of hospitals and which is equally proportionate to more clinical practices and more no of the population so that Students get more learning opportunities. Hands-on experiments and clinical clerkship from the initial period develop confidence. Superlative Internships and their scope for the growth of medical students are abundantly available.
Safety: Study in Georgia is a viable option because the country grants complete safety even if the part of traveling or exploration is not a concern anymore.
Multicultural Environment: Students have vast exposure, they get to experience different environments and surroundings as compared to India's educational background which is somewhere limited or restricted. 
Accreditation of the Governing Bodies: Studying abroad is a well-affiliated option with WHO and UNESCO. All universities are MCI Approved Medical Colleges in Georgia.
Georgia Top Medical Colleges
There are various Georgia Top Medical Colleges that abide by the foreign standards of education and even implemented a committed educational forum for medical aspirants. Here, are the honourable mentions of the universities in Georgia:- 
East European University - $ 5000
Georgian American University - $ 8000
Grigol Robakidze University- $ 5000
ILIA State University - $ 5000
BAU International University - $ 4500
Batumi Shota Rustavelli State University- $ 7000
Altai State University - $ 6000
New Vision University - $ 5500
Tbilisi State Medical University - $ 4000
Students can take life learning experiences in a much lesser hassle environment, on a budget rate. Crime rates are comparatively lesser because it is a democratic republic. The MBBS in Georgia assures a safe and sound environment.
In India, applicants must pay between Rs 80 lakhs and Rs 1 crore or more to be accepted into one of the prestigious medical schools that are privately managed.
Process of Getting Admission to Georgia Top Medical Colleges
Each year, thousands of Indian students apply to the Georgia Top Medical Colleges MBBS program with great eagerness, and the enrolment procedure is remarkably straightforward and exact vs. enrolling in an MBBS program in India.
Eligibility Criteria for Admission

The candidate is of 17+ years by 31st December of the enrolment year. 

The compulsion of Academic background of 10+2 grade with science subjects.

Physics, Chemistry Biology, and even English need to be the major subjects for the students.

50% marks in the 10+2 for the general category, and 40% for the reservations category.

Qualifying for the NEET examination is a must. 

No requirement of qualifying for any language proficiency examination IELTS or TOEFL. 
Since there is no requirement to pass any entrance exam for any medical institute and the provision of a premium environment is on a budget-friendly basis, it stands out that getting admission to any deemed medical university in Georgia is such an easy going process.
DOCUMENTATION PROCESS: 
10th and 12th standard mark sheets should be scanned thoroughly. 
An authentic passport.
Provision of Migration Certificate
Bank statement of the student's guardian for the assurance that students can bear the fee very well. 
Form of Application needs to be filled.
The admission Invitation letter needs to be provided by the University where the candidate is seeking admission.
NEET scorecards need to be scanned properly. 
Air tickets to Georgia. 
Georgia MBBS Degree Valid in which Countries
This question often pops up among Indian medical aspirants that a Georgia MBBS Degree Valid in which Countries or holds any prominent place in the recognition and key role in one's becoming a doctor?
The answer is absolute Yes, it very much holds its place it doesn't just hold its validity in the constrained area or limited countries from the list. But, its MBBS degree has a worldwide acknowledgment.
In fact, the students have a much-liberated sphere to themselves for practicing their medical profession in different countries across the globe. 
The reason for the validity of this MBBS in Georgia is because it has got its accreditation from various governing bodies such as MCI/NMC, WHO, FAIMER & UNESCO. 
The candidates can attain their legalized authority of practicing medical profession in various countries including India by surpassing the FMGE/NEXT examination. 
Candidates who aspire to practice in various other countries can look out for the eligibility criteria. 
Various countries have different sets of examinations to tick off the eligibility criteria to enter the medical field of that particular country. Some of the notable countries where a candidate can practice are the USA, UK, Canada, and Australia.
MBBS in Georgia Consultancy
MBBS in Georgia consultancy like Affinity Education helps the candidates to get insights and detailed knowledge about a country like Georgia for the MBBS course to Indian candidates. 
Affinity Education has always accorded its hands with the candidates who have incorporated with them regarding the mission of getting admission for MBBS in Georgia. 
Candidates get surveyed knowledge and ease in the procedure of admission with a team of experts. The whole procedure is encountered within the time framework and the candidates' complete process is entirely responsible for Affinity Education. Affinity Education provides end-to-end support for the candidate and their families.
Frequently Asked Questions (FAQs)
Q.1. Why MBBS in Georgia is an excellent choice over MBBS in India?
Ans.1. MBBS in Georgia is an excellent choice over MBBS in India because it is an affordable choice, with a qualitative curriculum approach, and superior environmental surroundings for boosting learning for the candidates. 
Q.2. How candidates get benefited while pursuing MBBS Abroad?
Ans.2. While pursuing MBBS in Georgia candidates get a plethora of benefits in their learning that are:
International Exposure
Less hectic environment 
Great clinical exposure
Additional language training 
Chances of settlement
Q.3. Can candidates get permanent residency in Georgia?
Ans.3. Yes, absolutely candidates can move forward with the option of Permanent Settlement in the country only. And, practice here with no further examination procedure. and, competition is also quite less to contribute more towards the benefits for the PR in Georgia.
Q.4. Is Tbilisi a good place to study in Georgia?
Ans.4. Tbilisi is the capital of Georgia and is the place where there are prevalent medical institutes to study and has the maximum no of the population which enhances the chances of great clinical exposure. It has the easiest and fastest connectivity with the country India in comparison to the other parts of Georgia.