MBBS in Georgia for Indian Students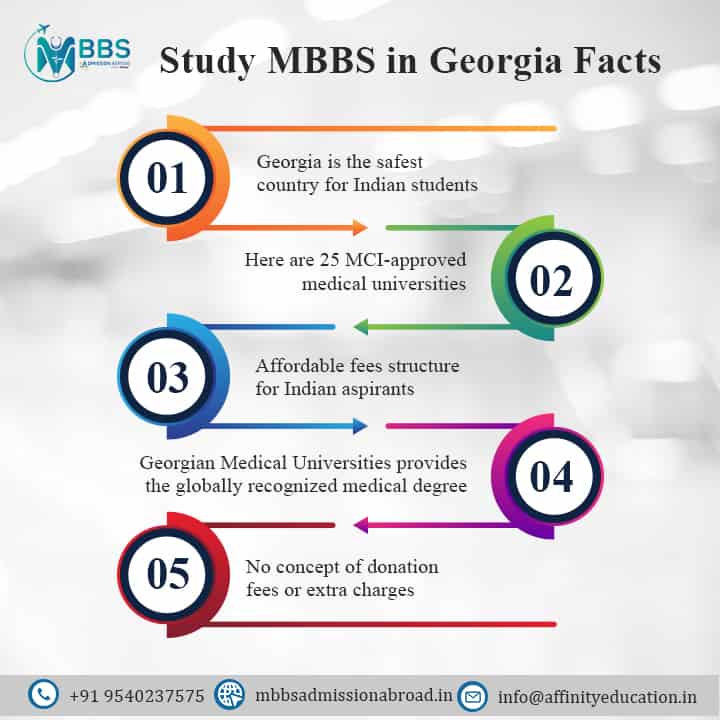 Georgia is the country at the intersection of Eastern Europe and Western Asia. Georgia has a 99.8% literacy rate. MBBS in Georgia is always been an attraction for medical aspirants as well. The country covers an area of 69,700 square kilometers and has a population of 3.5 million people. Moreover, Nearly, 5000+ students travel to Georgia to study MBBS abroad.
Tbilisi is the capital & largest city of Georgia. It is the 6th most secure country in the world. Apart from that, Georgia is listed in the top 10 corruption-free countries in the world. The climate of Georgia is mild and rainy, so Indian students easily adjust to this climate.
Study MBBS in Georgia for Indian Students
Georgia is one of the prominent destinations to study MBBS abroad. The experience of studying MBBS in European Countries like Georgia has always proved to be the best for Indian students or international students. Georgia is always famous for its medical education across the world.
For those applicants who wish to study MBBS from outside the country, for those students who study MBBS in Georgia, it is worth it. All the Georgian Universities are affiliated with WHO (World Health Organization), MCI (Medical Council of India), and FAIMER (Foundation for Advancement of Medical Education & Research) to provide the best quality medical education.
MBBS in Georgia admission process is also very simple and easy to admit in Georgian universities. Students just need to satisfy the admission criteria for entering colleges. There is no issue related to high costs because the cost of living is also pocket-friendly for the students.
Georgian Medical Universities offer quality education under their budget. Indian students can easily afford a world-class education. Every year around 22.6% of Indian students take admitted to Georgia to study MBBS. The medical schools of Georgia provide the world's best education with a high-standard infrastructure.
Highlights of study MBBS in Georgia
Course - MBBS
Medium of Instruction - English
Recognized by - WHO, NMC/MCI, etc.
Average tuition fees - 4000 USD
MCI-approved universities - 25
Exam - NEET exam qualified
Course duration - 6 years with the internship program
Intake of MBBS course - September of every year
Why do students choose to study MBBS in Georgia?
There are several advantages to studying MBBS in Georgia, after reading these details students have clear thoughts about why students select this destination. The advantages are listed below.
Georgian medical universities are recognized by WHO and NMC/MCI.
Students who study MBBS in Georgia can get an opportunity to do experiments in practical training. This will also help to improve student doctoral skills.
Georgian medical universities don't take any kind of donation or any other extra charges to get admission.
Applicants get many best options for internships or further studies within the country itself. Georgian universities offer an exchange program for international students in different countries.
The universities in Georgia are well equipped with modern technologies and standard infrastructure.
All the medical universities in Georgia provide very good hostels on campus to the students and they also provide Indian food for the students.
MBBS admission in Georgia is an affordable option for Indian students besides international students as many universities offer low-cost MBBS programs.
Georgia is a perfectly safe country. Students can easily travel by public transport without any problems.
Georgian Medical Universities provide training to prepare for the FMGE exam, the USMLE exam, etc.
Georgia MBBS Fees for Indian Students 2022
Choosing MBBS in Georgia option to study medical science fee is a prime factor. Georgia is getting popular among all medical aspirants. We provide MBBS in Georgia fees structure for you. Before selecting a college you can check it here.
Batumi International University - 4500USD
Batumi Shota Rustaveli University - 4000 USD
East European University - 5000 USD
Georgian American University - 5000 USD
Grigol Robakidze university(Gruni) - 5000 USD
Akaki Tsereteli State University - 4500 USD
New Vision University - 7000 USD
Tbilisi State Medical University - 8000 USD
ILIA State University - 5300 USD
Georgian National University, SEU - 5500 USD
MBBS in Georgia Eligibility Criteria
It is necessary to complete admission conditions to get easy and direct enrolment in your favorite medical colleges in Georgia. In case any student does not complete the eligibility criteria of MBBS in Georgian universities then he/she will be considered disqualified. Important information remarkable below:
Eligibility Criteria of Georgian Universities

Exam

Applicants must be qualified for the NEET exam to get admission in Georgia.

Academics'

50% marks are needed in PCB in the 12th standard
40% marks are required for reserved category students in PCB subjects.
Physics, Chemistry, Biology, and English are the main subjects in 10+2.

Age

The minimum age is required 17 years, students who complete 17 years till 31st December of admission years are also eligible.
This is the complete admission eligibility criteria for those students who wish to study MBBS in Georgia. These criteria are absolutely helpful for students.
Essential Documents Required
10th mark sheet
12th mark sheet
Passport size photograph
Original Passport
Medical report
HIV/AIDS reports
COVID-19 report
Bank Statement
NMC/MCI Approved Medical Universities Colleges in Georgia
Georgia has 25 MCI-approved medical universities. Students can get enrolled in any MCI-approved medical college. We described some NMC-approved universities in Georgia.
East European University, Tbilisi is one of the best universities in Georgia. It was founded in 2012 in the heart of the city, Tbilisi. This university holds the 32ndcountry rank which is very impressive.
New Vision University was established in 2013. It is known to be one of the fastest-growing universities in Georgia. New Vision University is in the 19th position.
Georgian American University
Georgian American University is also an NMC-approved university in Georgia. It was established in 2001. This university focuses on providing the best quality education to international students.
ILIA State University was founded in 2006. This university marges with 6 other educational institutions. Currently, this university is one of the leading research universities in Georgia.
Tbilisi State Medical University
Tbilisi State Medical University was established in 1918 in Tbilisi. It has 100+ years of experience in giving the best quality education. This is one of the largest universities in the country.
Hostels & Accommodation
Georgian Medical Universities' hostels are according to the world standard. Rooms are 2well-furnished and the hostel management offers a bed, table, chair, Almira and other required furniture and all necessary things.
Apart from that, Georgian Universities offer a ragging-free campus for students. Here is the whole campus under CCTV surveillance. Besides, Georgian universities arrange sports facilities and other extracurricular activities for students.
In the end, for those students searching for the best universities to study MBBS abroad then Georgia is the fit for you. Georgia MBBS fees for Indian students are also very affordable. Indian aspirants can easily afford MBBS in Georgia.
Frequently Asked Questions
Ques: How many MCI-approved medical colleges are in Georgia?
Georgia has both Private and Government universities for medical studies. If we honestly speak about MCI-approved universities in Georgia, there are around 25 MCI-approved universities in the country.
Ques: Why Georgia is the best destination for studying MBBS abroad?
There are many beneficial sides to studying MBBS in Georgia. All the Georgian universities offer medical courses for 6 years with fantastic practical training, they help to shape your medical skills. Besides, we talk about accreditation so all the Georgian Medical Universities are affiliated with WHO, MCI, and other international bodies.
Ques: Can students work during the MBBS program?
Students can do work also during the medical program. Apart from medical studies extra time can devote to earning money.