MBBS in China Update: Admission, Study VISA, and NMC Gazette effect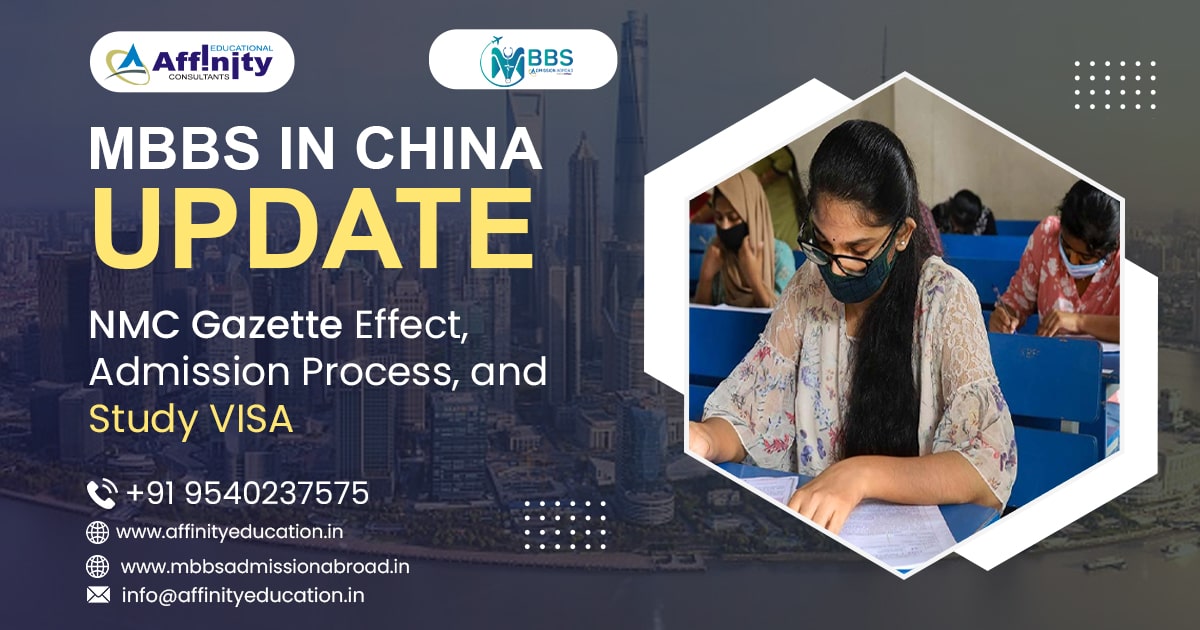 Are you one of them who want to pursue a medical degree from a Chinese Medical College? Then we have good news for you that comes from the National Medical Commission (NMC) Gazette 2021. Just check your eligibility and apply now.
NMC Gazette effect on MBBS in China
November 18th, 2021, the National Medical Council of India released its Gazette is regarding MBBS Abroad Admission on this day. Students who are planning to pursue their medical degree from China Medical colleges should the exact detail and guidelines of that NMC gazette.
Course Duration – Only those degrees that have duration of at least 54 months.
Mandatory Internship – Candidates need to complete a 12 month compulsory internship from the same university.
English – Only degree of those universities valid in India that offer the MBBS degree in the English language.
NEXT Exam – Applicants who have completed the MBBS degree from medical universities in China need to give NEXT Exam to practice in India.
No College Change – Aspirants need to complete their MBBS degree and internship from the same medical university.
Validity of Degree – The last thing to remember is that the medical university you choose must approved by the NMC and WHO.
Above are the few most important points that applicants need to check before applying for the admission in China.
Read More….(https://www.mbbsadmissionabroad.in/nmc-gazette-2021-in-a-nutshell)
Study VISA Update of China
Foreign students who are willing to study MBBS in China will need a Student (X) Visa. They required a JW202 (is for students who wish to study MBBS in China) Visa to apply for X Visa at the Chinese Embassy or Chinese Consulate.
Most of the medical students are looking for Study Visa Update of China, but due to certain condition China is not accepting students Visa. As per the schedule, the Winter Olympics is going to be held in China on 4 February, 2022. So, application for the Students Visa is not accepted by the Ministry.
In upcoming time, China may resume the study visa services after the Olympics and also it is mandatory the COVID condition will be normal.
Study MBBS in China
China is a favorite choice of almost every foreign candidate. The ancient education system, culture, and overall lifestyle have put China in the limelight. Student's loves to study MBBS in China as it follows the oldest medical education system.
It is one of the most demanding destinations for international students. They have a great opportunity to choose any of the top ranked medical university in the country and apply for admission. These medical universities offer a 6 years MBBS program at an affordable tuition fee.
Candidates are looking for the best medical universities that provide a better medical program on a budget. They can check the list of most topmedical universities in China that has all the arrangements to provide better medical education to students.
MBBS in China Admission Process
Admission to Chinese medical universities is done on the basis of the qualification of the NEET Exam. We put some useful admission related criteria and documents that applicants need to provide during process.
Age Limit – Must complete the minim age of 17th till 31st December of the admission year.
Criteria – Qualification of the NEET Examination is compulsory for Indian candidates.
Academic Qualification – Minimum 50% marks required in 12th class exam (40% required for reserve category candidates).
Mandatory Subjects – Physics, Chemistry, and Biology must be the compulsory subjects in 12th class exam.
Documents Required
Scanned copy of 10th and 12th class mark sheet.
NEET Exam mark sheet.
School leaving or Transfer Certificate.
Scanned copy of Passport.
Medical checkup report.
Police verification from local police station.
Passports size photos.
Top Medical Universities in China
Fudan University, China
Zhejiang University, China
Wuhan Medical University
XI'an Jiaotong University, China
Sun Yat-Sen University, China
Sichuan University, China
Jinan University JNU, China
Jilin University, China
Jiangsu University, China
Qingdao University, China
Nanjing Medical University, China
Harbin Medical University, China