9 Advantages to choose MBBS in Georgia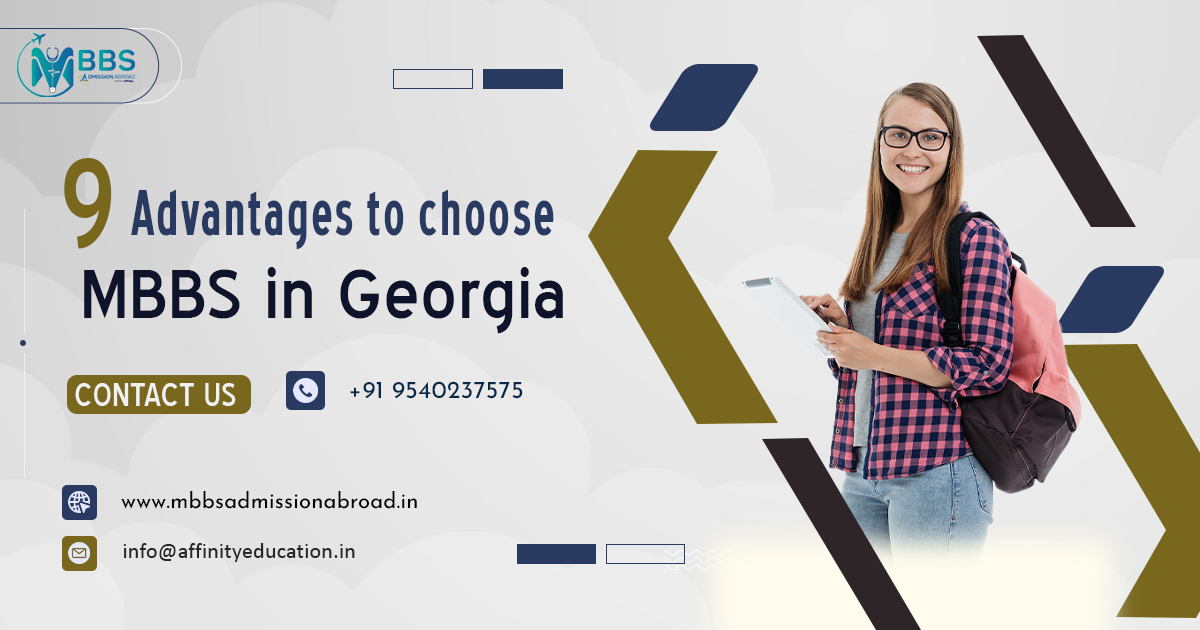 Every year, after taking PCB (Physics, Chemistry, Biology) subjects, Indian medical students face immense competition in the NEET examination. While going through the tough competition to get admission in reputed Indian medical colleges with low availability of seats and exorbitant tuition fee in Indian Medical Universities, the dream to become a doctor of many Indian students got crushed.
MBBS in Georgia is one of the great options for Indian students, who want to pursueMBBS abroad. The education system of Georgia is conventional, praised and acceptable world-wide. Studying MBBS in Georgia is a more affordable and globally acceptable option for Indian medical students.
India and Georgia have great geo-political relations. It is a developing country, which shares borders with Russia in the East, Turkey & Armenia in the South and the biggest water body Black Sea, in the North. The country covers approximately 69,700 kilometers of land area and has a population of approximately 4 million people.
Tbilisi is its capital of Georgia and its currency is Georgian Lari. The climate of Georgia is humid subtropical, which is a positive point for Indian students to study MBBS in Georgia.
Georgia MBBS colleges offer courses in following disciplines-
General Medicines
Nursing
Pharmacy
Pediatrics
9 Advantage to choose MBBS in Georgia
Accreditation-Georgia MBBS Colleges are approved by MCI (Medical Council of India), NMC (National Medical Commission), WHO (World Health Organization) and FAIMER (Foundation of Advancement of International Medical Education and Research). 
Worldwide acceptable education system-Georgia education system is highly acceptable worldwide. Their Medical Universities are MCI approved medical colleges in Georgia, hence their education is acceptable by the Indian government.
Affordable tuition fees- Every university of is funded by the government of Georgia so students get great quality of MBBS education with highly-subsided medical education.
MCI approved colleges- Major MBBS colleges are MCI approved medical colleges ingeorgia. These MBBS colleges in Georgia are funded by the government.
Direct admissions- There is no extra examination to qualify for medical students who want to pursue MBBS abroad. They can apply after completion of 12th and NEET scorecard.
International exposure of medical practice- MBBS in Georgia offers world class medical education with international exposure of medical practice to Indian students.
Satisfactory NEXT examination passing rate- There is approximately 50% qualifying rate for NEXT examination after completion of study MBBS abroad from Georgia MBBS College.
No need of IELTS/TOEFL score- There is no need to qualify IELTS (International English Language Testing System) or TOEFL (Test of English for Foreign Language) examination. 
Climate conditions are the same as India- The climate of Georgia and India are almost the same because Georgia experiences a humid subtropical climate whereas India experiences a tropical climate. Georgia undergoes a short, mild winter and long, hot summer which is quite similar to the climate of India. It is a positive situation for an Indian student who wants to study MBBS in Georgia.
Top MBBS College in Georgia
Top MCI approved Medical Colleges in Georgia for every international student are mentioned below- 
Batumi International University
Batumi Shota Rastavelli University
East European University
Georgian American University
Grigol Robakidze University(Gruni)
New Vision University
These colleges are MCI/ NMS approved and their degrees are acceptable in India and many other countries because the education of Georgia is globally acceptable.
For Indian students MBBS in Georgia Fees is quite affordable and fair to study MBBS abroad. The approximate tuition and accommodation fee in MCI approved Medical Colleges in Georgia is 20-25 lakhs per year.
Admission Eligibility Criteria
There is a certain eligibility to achieve to study MBBS abroad-
Age Limit

Medical aspirant should be 17 years old or above

Educational Qualification

50% marks in 12th board examination with PCB for general category students from a recognized board

40% marks in 12th board examination with PCB for reserved category students from a recognized board

Exam 

NEET qualified
Documents Required
Required documents to get admission in MCI approved Medical Colleges in Georgia are mentioned below-
10th marksheet & certificate
12th marksheet & certificate
NEET scorecard
Original passport
Passport size photo with visa format
Verified medical reports
Bank statement
The Admission Process for MBBS in Georgia is not so complicated. You can visit the above mentioned university from our website to get more precise information.
I hope you find this blog informative. The students can get more detailed information about the study MBBS in Georgia with specified college fees structure on our website. Best of luck to everyone.
FAQ
1- How good to study MBBS in Georgia for Indian candidates?
To complete their dream of being a doctor Georgia is one of the best spots "By all means". Along with good education, this nation is the 6th safest nation in the world. All the medical universities in Georgia0 provide A-class quality education. This nation has many MCI-approved medical universities that supply the best facilities for Indian students such as providing Indian mess, the best hostel facilities and many more. 
2- How many MCI-approved medical universities in Georgia?
As we know Georgia has so many top medical universities, that provide always the best qualifications in terms of quality. Onward we share the list of MCI-approved medical universities in Georgia. Medical Council of Council of India provides a list of 21 MCI-approved medical clinical universities in the nation.
3- Why Indian students do prefer to study MBBS in Georgia
Students prefer to study MBBS in Georgia for many reasons. Georgian universities have an easy and hassle-free admission process. The majority of clinical universities in Georgia provide high-quality infrastructure. There are more than 10,000 students who already study at Georgian medical universities. The Georgian education system ranked in under 30th position in the world. 
4- What is the fee range to study MBBS in Georgia?
If we talk about the MBBS in Georgia fee so students bear the amount between 15 lakhs to 30 lakhs for the whole medical course including all kinds of expenses. This nation is indeed affordable for Indian aspirants in comparison to Indian universities.